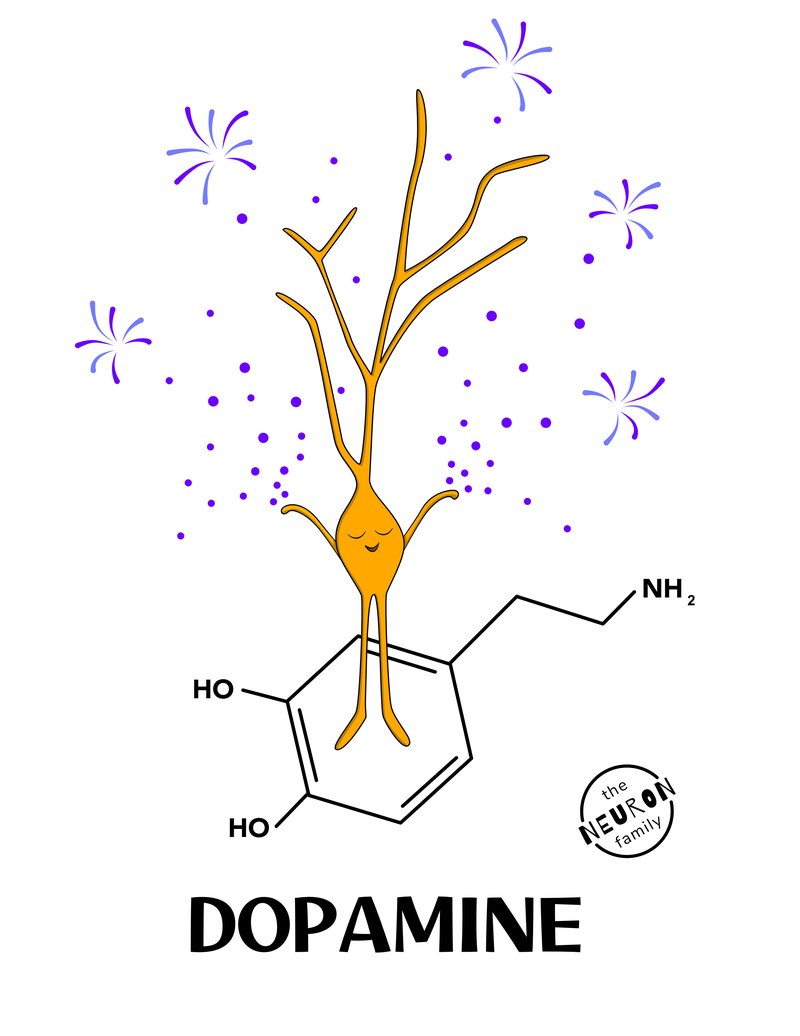 Dopamine Neuron
Say "Hello!" to our newest family member - "Dopamine Neuron"!
There are many neurons in the nervous system that contain and release dopamine
Our Dopamine Neuron is modelled after a neuron located in the ventral tegmental area (VTA). The VTA is part of the reward system of the brain. It provides dopamine to many areas including the prefrontal cortex (PFC) and the nucleus accumbens (NAc). Dopamine signaling from the VTA is important for reward processing. It is also thought to create the motivation necessary to accomplish tasks that end with a reward! These tasks include drinking water when thirsty, eating delicious food, and sexual intercourse.
Drugs such as opiates, nicotine, and cocaine, act by increasing dopamine signaling and confound the brain's natural reward system.
Fun Fact: Dopamine Neuron is standing on a dopamine molecule!
References:
Lavin, A. (2005). Mesocortical Dopamine Neurons Operate in Distinct Temporal Domains Using Multimodal Signaling. Journal of Neuroscience, 25(20), 5013–5023. https://doi.org/10.1523/JNEUROSCI.0557-05.2005
Schultz, W. (2001). Book Review: Reward Signaling by Dopamine Neurons. The Neuroscientist, 7(4), 293–302. https://doi.org/10.1177/107385840100700406