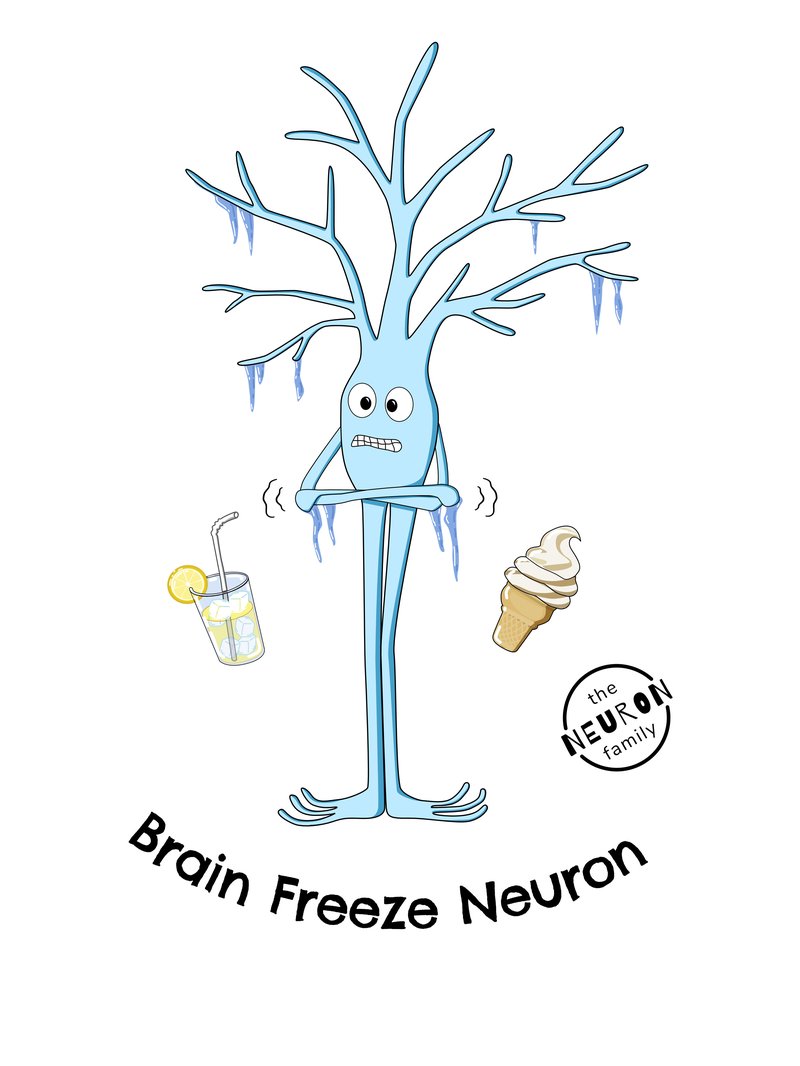 Brain Freeze Neuron
Say "Hello!" to our newest neuron! Brrrr!! Have you ever experienced a Brain Freeze!?
.
A Brain Freeze or "cold-stimulus headache" usually happens after fast cooling of the roof of the mouth. This is often due to drinking cold beverages or eating ice cream too quickly!
.
It is not yet known what exactly causes the pain associated with Brain Freeze. It could be due to constriction of blood vessels in the roof of the mouth followed by rapid dilation. Researchers also found an increase in blood flow through the anterior cerebral artery (ACA) to the frontal part of the brain, which could be causing the headache pain.
.
Alternatively, it could be a referred pain from the roof of the mouth to the forehead by the trigeminal nerve. In fact, Brain Freeze is also referred to as "sphenopalatine ganglioneuralgia", this name comes from the bunch of neurons called the sphenopalatine ganglion which resides close to the trigeminal ganglion and innervates the roof of the mouth. It is possible that the sphenopalatine or trigeminal ganglion sends a pain signal that is interpreted as pain in the forehead.
.
Luckily Brain Freeze headaches usually go away quickly! As such, they are not studied as much as other types of headaches! Interestingly, Brain Freezes are more prevalent in those who suffer from migraines. This suggests that these two types of headaches could be related and that perhaps Brain Freezes should be studied in more detail!
.
References:

Blatt MM, Falvo M, Jasien J, Deegan B, Laighin GÓ, Serrador J. Cerebral Vascular Blood Flow Changes During 'Brain Freeze.' The FASEB Journal 2012;26. doi:10.1096/fasebj.26.1_supplement.685.4.
Mattsson P. Headache Caused by Drinking Cold Water is Common and Related to Active Migraine. Cephalalgia 2001;21:230–235.